Amazon's affiliate program is also sometimes referred to as Amazon Associates. But what is it exactly? It is an affiliate marketing program that enables users to make money out of their blogs, websites or social media accounts. Users of Amazon's affiliate program simply add links to Amazon products on their personal site. If a customer makes a purchase in the next 24 hours after clicking on one of the links, the user is awarded a commission. Read this article to find out more about Amazon's affiliate program and how to become an Amazon affiliate yourself.
How to Become an Amazon Affiliate in 6 Easy Steps
1.

Create a Website or Blog

Your personal website or blog is an effective way of marketing Amazon products. Use a content management system (CMS) like WordPress to set up your site. If you don't want to have a website, don't worry as you can earn from Amazon affiliate without one. You can post on social media such as Quora, Facebook and Reddit.
2.

Visit the Amazon Associates Homepage

The next step is to visit the Amazon Associates homepage and complete the simple registration process. Click on the "Sign Up" button. You will need an Amazon account to join the program.
You will see the option to enter your website and mobile app URL(s). You have the option to add up to fifty websites or domain names. Obviously, the more you enter, the more chance you have of making money, especially if you have a strong social media profile.
3.

Build Your Amazon Associates Profile

Next, complete your profile. This is an online form with spaces for information, such as your personal store ID, how you plan to build links, and how you aim to drive traffic to your website. You'll be asked to provide information about the nature of your websites and interests and the types of products you intend to market. Topics can also be selected in the section with a drop-down menu.
You will also be asked to describe how to plan to drive traffic to your websites or social media accounts. It is worth having the details of your websites or mobile apps to hand as Amazon will ask how many visitors they receive each month and the more details you can supply the better.
To check your identity, Amazon requires your phone number which they will use to make an automated phone call. This is a common process used by many companies. After you have entered your phone number, a PIN will appear on the screen. You will then receive an automated call asking you to verify the PIN. It's that simple!
Once you have completed the registration process, you will be directed to the Associates' Platform dashboard where you will find the affiliate links for all the Amazon products that are part of the program. You will also be able to see a variety of analytics, such as earnings revenue.
4.

Create Amazon Affiliate Links

You can either create Amazon Affiliate links by using the Product Link Tool or the relatively new SiteStripe feature.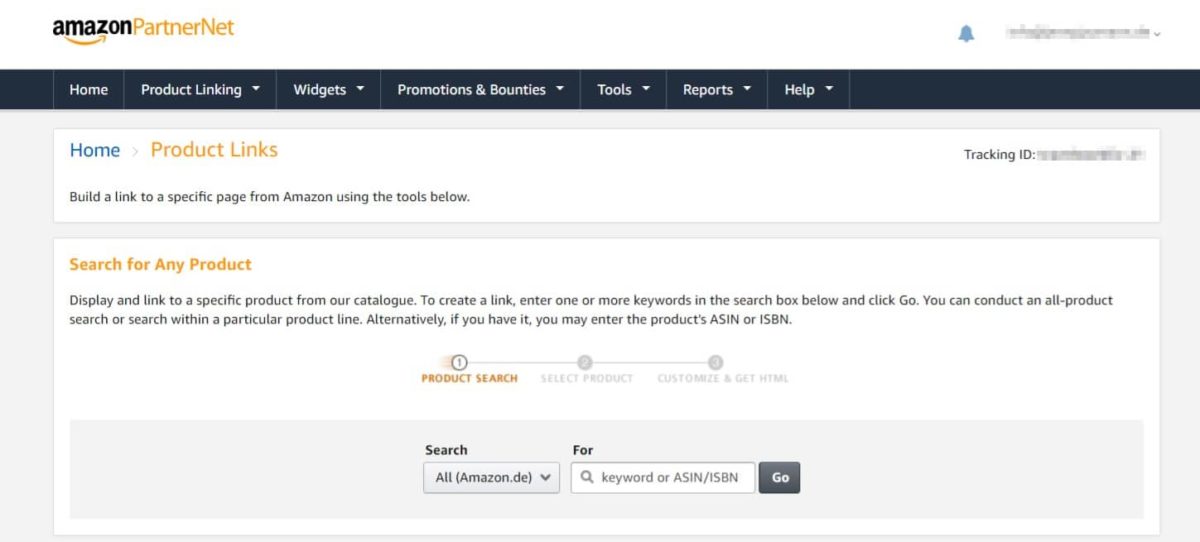 The Product Link Tool is the most widely used option. To use it, just click 'Product Linking' at the top of the page and select 'Product Links'.

SiteStripe allows you to create links directly to the Amazon website without having to visit the Associate Central website.
5.

Amazon Affiliate Program: How to Get Paid

Any profits earned from the affiliate program will be paid approximately 60 days after the end of each calendar month.

You can choose to be paid by a deposit into your bank account, an emailed Amazon gift card or via a cheque. Choose your preferred option carefully as the type you choose affects how often you'll receive your earnings from Amazon as there is a varying minimum payment amount for each option.
6.

How to Maximize Your Profits

There are tried and tested strategies that will help you develop your site and optimize your earnings:
a) Find a Low-Competition Niche
Ideally, this will be an area in which you have an interest and creating review-focussed content on your website or blog is one of the most effective ways of establishing an affiliate website. Use Google SEO analytical keyword tools to find out just how competitive niches are and the best combination of keywords to use for ranking.
b) Keep Your Website Fresh
Regularly post updates with good quality content. There are many ways you can post review-based content which is appealing and engaging and will drive traffic to Amazon.
c) Use A Amazon Affiliate WordPress Plugin
To make sure your links are placed correctly on your website and are always up-to-date it's best to use an Amazon Affiliate WordPress plugin like AAWP. AAWP lets you display product information in several pre-designed ways, including different product information like product image, description or price. It also automatically updates them, so you don't need to take care of this!
d) Use Link Localizers
These allow you to redirect foreign visitors to the correct Amazon website. If you don't use this feature, you won't receive payment for any international traffic you send to Amazon.