We're thrilled to announce our newest plugin Performance Reports for AffiliateWP which extends AffiliateWP with some new tools to boost your affiliates' performance by regularly sharing generated views, clicks and referrals!
New to AffiliateWP? Or need a quick refresher? Let's take a look.
What is AffiliateWP?
AffiliateWP is the leading affiliate plugin for WordPress. Built by the SandHills development team of Easy Digital Downloads (EDD) fame it's both easy to use and robust enough to do everything you need and more.
Simply, AffiliateWP is the easiest way to run an affiliate program on your WordPress website with the bonus of integrating with popular membership and eCommerce plugins such as WooCommerce.
Performance Reports for AffiliateWP
– What Does Our Plugin Do? ⭐️
We're glad you asked! At a high-level overview, with our plugin you can easily send so-called performance reports to your affiliates, which show them, how well they have done in a selected period of time.
Those individual reports may include the affiliate's generated views, clicks and referrals.
You want concrete use cases? No problem:
Send your affiliates an email every month (or quarter) about their performance with your affiliate program. All emails will include individual views, clicks & referrals numbers.
Besides sending affiliates their numbers, you can also add custom text in your emails. For instance, when there's a promotion planned or already running.
Send performance reports only to your best, or your worst affiliates to motivate them. These are only 2 options you can achieve with our filter.
No matter which action you take, the result will be a stronger relationship with your affiliates and their motivation to make more out of your affiliate program!
Want to see the plugin in action?
And here you can find a little visual impression how the plugin works:
Step 1: Define recipients
At the beginning, you have to define who should receive your report. For this, our plugin currently provides filters like affiliates, start & end dates, minimum views & referrals.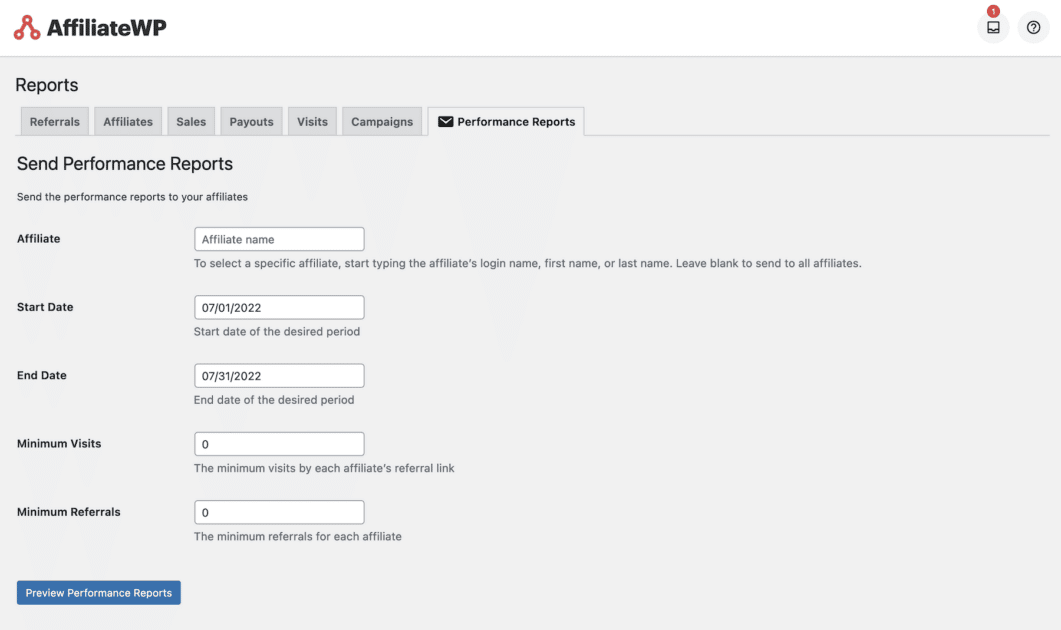 Step 2: Prepare, preview and send emails
Once you have checked your filters and recipients, as well as finalized the texts, you can start sending the emails.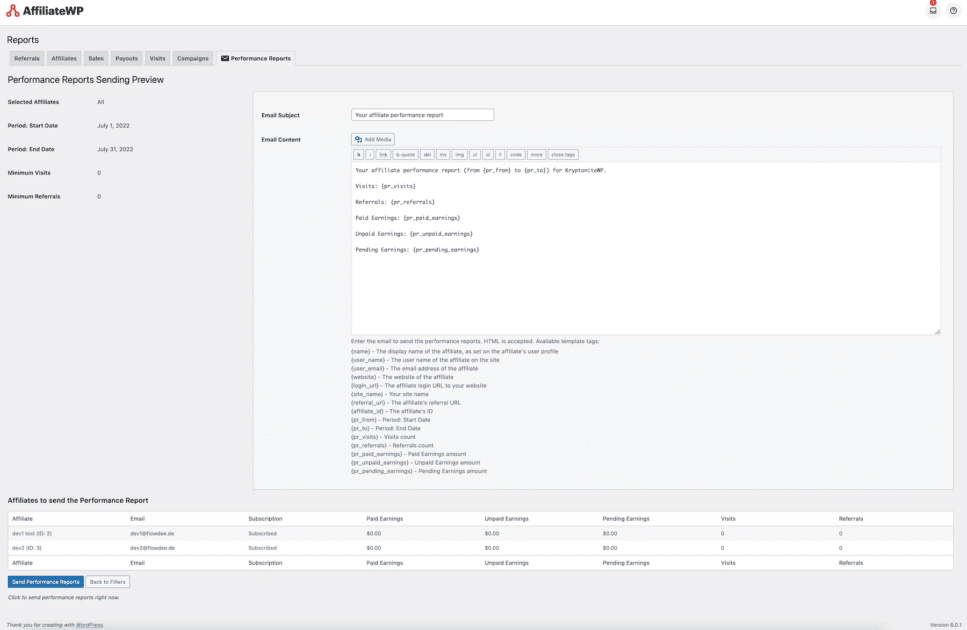 At the bottom of the screen, you will find a preview of the affiliates who will receive this email report. Settings for subscribing and unsubscribing from these emails are also available.
After an affiliate received a performance report, there will be an overview of past received reports in the affiliate admin page.
There's also an overview of all available functions of Performance Reports for AffiliateWP.
Wrapping Up
Performance Reports for AffiliateWP couldn't make it easier to actively support your affiliates with their beloved and earnings related numbers. The plugin is quick and easy to set up you'll be on your way in a matter of minutes.
Not to mention there's also of course 1 year of support included, automatic updates.
Want to find out more about the plugin? Check out the product page and also have a look at our new AffiliateWP – Add-Ons Bundle if you want to save some money on top of that.