Affiliate marketing is one of the easiest ways of monetizing your site and earning a passive income. You do not need a huge investment to become an affiliate marketer, and you do not have to worry about things such as managing an inventory, book keeping, customer support, and other e-commerce related headaches.
As an affiliate marketer, you are constantly looking for ways to increase your revenue. Also, you might have already tried several methods of boosting your revenue. Today, we want to share with you a new way of increasing your affiliate revenues by adding coupons to your website.
What Are Coupons?
Coupons are essentially discount codes that you offer to your website visitors. Your visitors can then use these codes to purchase products and services at a discount. In other words, by placing coupons on your site, you are giving your visitors a chance to save some money when purchasing the products you are promoting. Okay, that sounds great, but how do coupons actually help you increase your affiliate revenue?
People love saving money and are always looking for discounts for everything, from software and website hosting to physical products like clothes and books. According to a survey by RetailMeNot and Omnibus,
96% of American consumers use coupons, while 59% of shoppers look for coupons and promo codes online before making a purchase.
Another study by Deal Nerd found that
consumers who use coupons spend 24% more money than regular consumers.
By placing coupons on your website, you are positioning yourself to take advantage of all the traffic resulting from people searching online for coupons. People are also more likely to purchase products with discounts, therefore coupons increase conversions on your site.
The best part is that as long as you help your visitors save money, they will keep coming back for more deals. This not only increases your sales, but also increases the lifetime value of your customers. You will also benefit from word of mouth marketing as these satisfied customers refer their friends to your site.
How To Find Coupons To Place On Your Site
Coupons are great for increasing your traffic, boosting your conversion rate and increasing the lifetime value of customers, but the question is, how do you find coupons to place on your site? Where do you find them?
There are a number of approaches you can use to find great coupons to place on your site. The first option is to search the internet for sellers who have coupon affiliate programs. These are sellers offering coupon discounts and at the same time allowing affiliate marketers to promote these coupons.  This way they earn a commission every time a customer redeems a coupon using their affiliate link.
Another option is to join coupons affiliate networks, which link affiliate marketers with sellers offering coupon affiliate programs. Coupons affiliate networks usually charge a subscription fee, but they give you access to a wider pool of sellers without having to perform a manual search yourself.
You also have the option of personally contacting sellers within your region or niche. This way you can directly work out a deal with your preferred sellers. If you're lucky, they offer discounts to your visitors while you get commissions for every sale made through your site.
How To Place Coupons On Your WordPress Page Using The Affiliate Coupons Plugin
To place coupons on your WordPress page, you need a coupon plugin. Coupon plugins allow you to easily create, customize and display digital coupons on your site without having to tinker and mess with your site's code. This means that you can use them to place coupons on your site even if you have no coding skills. The best WordPress coupon plugin to help you place coupons on your page is Affiliate Coupons.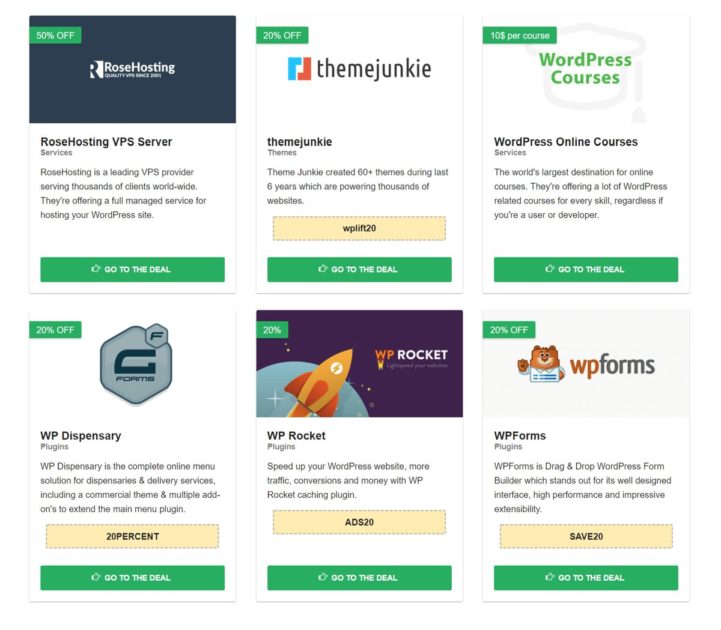 Creating and placing coupons on your site with Affiliate Coupons is easy. Once you have installed the Affiliate Coupons plugin on your WordPress site, you simply need to click on the Coupons tab on your WordPress dashboard and click on Add New. This will bring up a form where you will enter details about your coupon. For example the coupon type, the coupon code, the link to the deal/discount, the discount amount, a description of the deal, the coupon's expiry date, and so on.
Once you have entered all the necessary details, click on Publish to create the coupon. Once the coupon is ready, copy the shortcode of the coupon and insert it in the posts where you want the coupon to be displayed. Alternatively, you can use the plugin's widgets to display the coupon on your sidebar.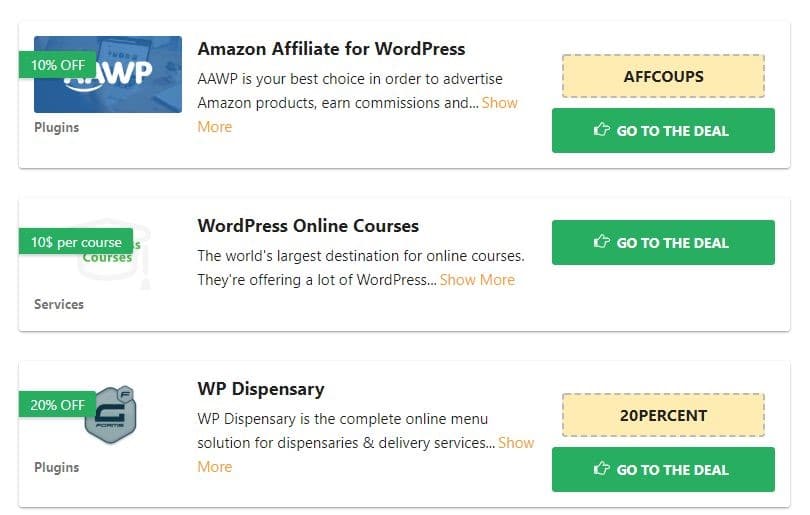 Shortcode used:
[affcoups max="5" template="list"]
What Makes Affiliate Coupons The Best WordPress Coupon Plugin
The Affiliate Coupons plugin has a number of great features that easily make it the best in the market. Through this plugin, you can create vendors and predefine affiliate links and then link your coupons to these vendors. Affiliate Coupon uses flexible shortcodes and templates to display coupons on the front end, which means that the plugin can be used with any theme without any issues. It also gives you the option of dynamically showing or hiding different coupons as you want.
Affiliate Coupon is designed to be responsive and mobile friendly. Your visitors can comfortably view and redeem coupons regardless of whether they are viewing your site on desktop, smartphone or tablet. The plugin also comes with different predefined templates and styles, allowing you to easily customize the coupons to match your website's look. The templates are customizable through the plugin settings. If you want more than the general customization offered by the predefined templates, you also have the option of customizing the plugin's output via CSS. Affiliate coupons also comes with widgets that allow you to display coupons on the sidebar.
Once you download the Affiliate Coupons plugin, you are granted lifetime access to the regular updates and improvements. In addition, the developer's caring customer support team is always available to assist you in case you have any issues. The best part is that the Affiliate Coupon plugin is free to download and use on your site. Yes, all these awesome features for free!
A Pro version of Affiliate Coupon has been released this week too. In addition to the features discussed above, the Pro version has a ton of extra features, such as event tracking via Google and Piwik, additional templates and widgets, additional coupon styles, coupon detail pages, click to reveal discount codes functionality, and so much more.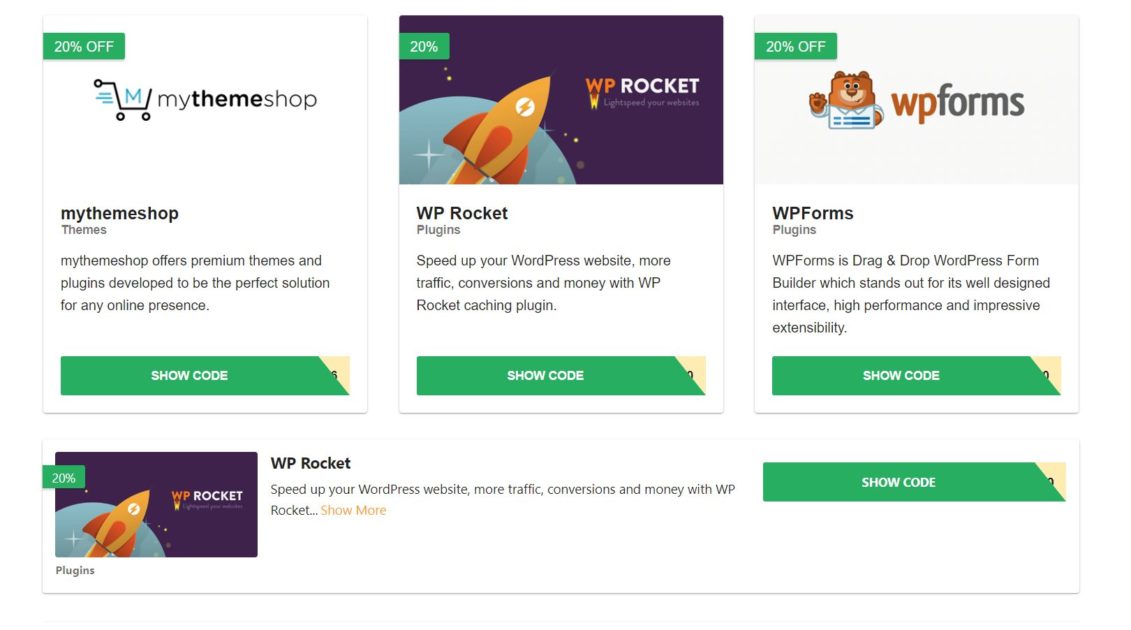 Wrapping Up
If you are an affiliate marketer looking for ways to increase your affiliate revenue, you should start placing coupons on your website using the Affiliate Coupon WordPress plugin. Coupons are a great way to drive more traffic to your site, boost your conversions and increase the lifetime value of your customers. Affiliate Coupons provides you with an easy way of creating, managing and displaying coupons on your site. To get started, click here to download Affiliate Coupons or get the Pro version here.