We're thrilled to announce our newest plugin which brings Oh Dear directly into your WordPress dashboard! With our plugin you can easily get an idea of your site's uptime, performance and broken links.
New to Oh Dear? Let's take a quick look.
What is Oh Dear?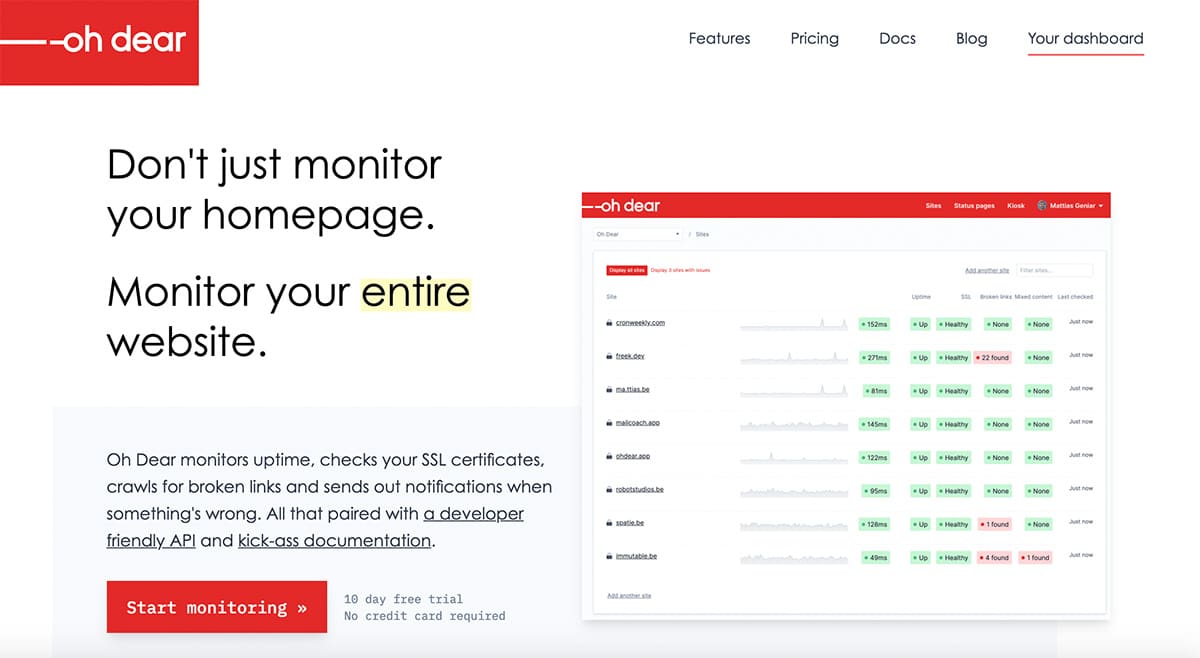 Oh Dear is more than just an uptime monitor, it can monitor the health and performance of your entire website. In detail, Oh Dear offers the following services:
Global uptime monitoring — and show you beautiful charts to help you see in a second when your site went down.
Broken link checker — checks your website for broken links that negatively impact your SEO and help you fix them.
SSL certificate monitoring — keep an eye on your SSL certificates to ensure they aren't expired and are working correctly.
Public status pages — If your website goes down you need to communicate the downtime to customers. Oh Dear hosts your status page so it's always available to share.
Performance monitoring — sometimes something happens to your site which makes it slower (software updates, new plugins etc). Oh Dear monitors your website speed overtime and notifies you if it becomes unusually slow.
Notifications — get notified wherever you want with Slack, Discord, Email, SMS and pushover notifications ensuring you're kept up to date always.
Cron Job monitoring (coming soon) — make sure your cron jobs run on time every time with automated notifications if they fail to run for any reason.
What is the Oh Dear WordPress plugin?
Our Oh Dear WordPress plugin integrates Oh Dear with your WordPress website displaying all the relevant information about the health of your site directly in your WordPress dashboard.
The main highlights of the Oh Dear WordPress plugin are:
Display your site's uptime monitoring
Display your site's performance monitoring
Display your site's broken links
Dashboard widgets
Wrapping Up
The Oh Dear WordPress plugin is free and available for download from WordPress.org.
Oh Dear itself costs just €10 a month and includes monitoring for 5 sites. A bargain when compared to other more expensive solutions.
Monitoring is a critical aspect for any business owner and now thanks to Oh Dear and the OhDear WordPress integration it couldn't be easier to keep up to date with everything you need for the health of your website.
So, what are you waiting for? Download the plugin today and enjoy monitoring your site!